Unai Simon was able to match the record of Spanish football icon Iker Casillas after he saved two penalties during a knockout game at the just concluded Euro 2020 tournament.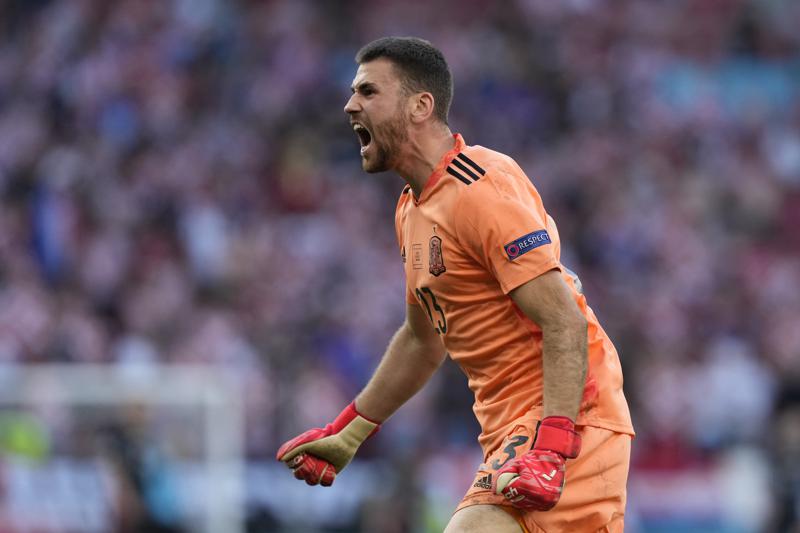 Iker Casillas was a key player in the Spanish team that dominated European football and world football between 2008 and 2012. The former FC Porto and Real Madrid shot stopper was the undisputed first choice goalkeeper in the Spanish national team.
Spanish football legend Iker Casillas saved two penalties in the shootout during the quarterfinal clash with Italy at Euro 2008. He was crucial to his team as Spain went all the way to win the tournament thanks to the 1-0 win over Germany in the final courtesy the strike from ex-Atletico Madrid and Liverpool striker Fernando Torres.
Casillas and Spain won Euro 2008 before they retained the title four years at Euro 2012. Spain also won the 2010 FIFA World Cup tournament in South Africa with Casillas as the number one shot stopper in their squad.
Athletic Bilbao shot stopper Unai Simon was able to match the penalty shootout record of Iker Casillas when he saved two penalties against Switzerland. Spain and Switzerland scored one goal apiece at the end of 120 minutes and they had to be separated thanks to the dreaded penalty shootout.
The heroics from Simon ensured that Spain advanced into the last four of the tournament ahead of the Swiss team.
Unai Simon came in for a lot of criticisms when he made a big mistake during the round of 16 clash with Croatia. Spain were able to see off the Croatians in extra time despite his mistake. Spain and Croatia scored three goals each in 90 minutes before the Spaniards scored twice in extra time to win the game. Simon was able to recover from the mistake in the game against Croatia to emerge as the hero at the end of the last eight clash with Switzerland.